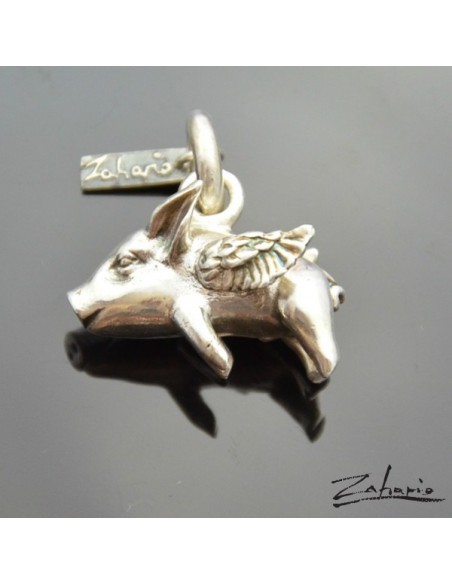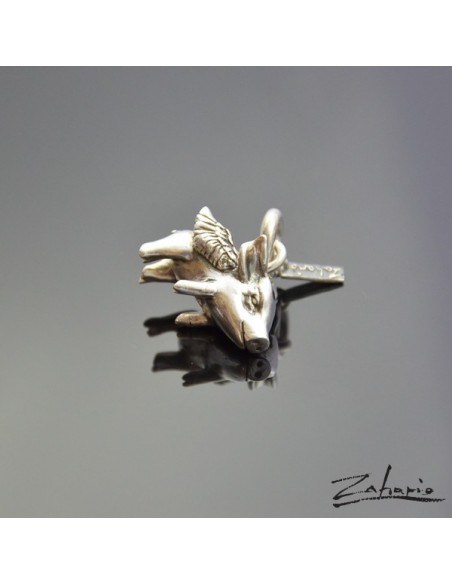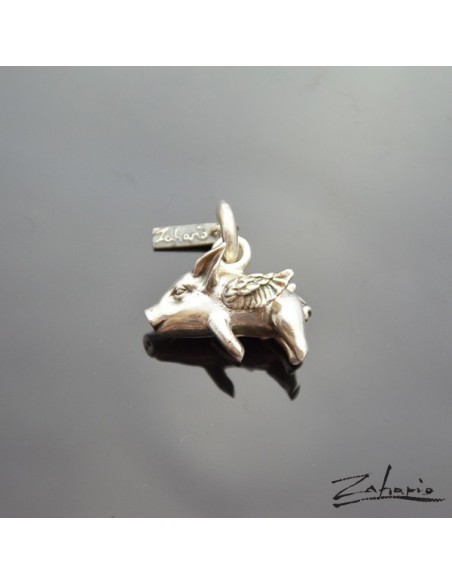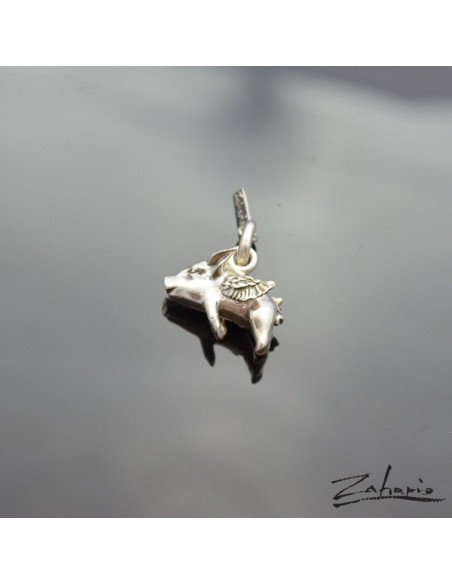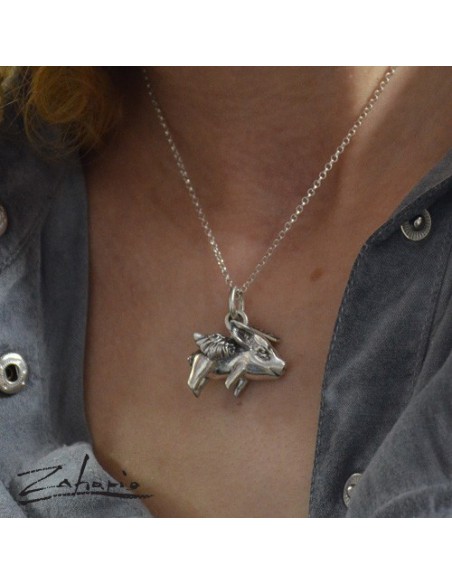 Pendant Flying Pig Silver
Winged Pig Pendant - Impossible is possible - zahario.com
Pendant presenting a pig with wings, handmade in Zahario studio. Symbol of wealth and fulfillment of the most improbable dreams. Author's jewelry.
Pigs would sooner start flying - this is how dreams that have no chance to come true are greeted. And yet sometimes they fly ...
Pendant presenting a pig with wings symbolizes fulfillment of even the most unlikely plans. It should never happen, but it did.
A pendant with a flying pig is a perfect gift for a person who is starting a new venture, or a gift to celebrate success.
The pig is a symbol of wealth, abundance and joy - these are the most popular associations. However, in many ancient civilizations - including Egypt, among the Celts and in pre-Columbian America - it was associated with strength, perseverance, fighting spirit and primal life force.
The pendant depicting a pig with wings was handmade of silver.
Attached to the pendant is a link with a tiny badge with the Zahario logo.
Artistic jewelry from Zahario is handmade in his workshop in Olsztyn. It is worth paying attention to the precisely elaborated details, which are made under a magnifying glass. It is possible to adjust the jewelry on request.
Dimensions:
Width of pendant: 12 mm.
Height of the pendant: 23 mm.
Circle diameter (for hanging on a chain): 8 mm.
Weight: 20,20 g.
Material: Silver 925.
The stated dimensions of the pendant may change slightly due to the individual execution of each piece.
There is a possibility to match the jewelery on request 
Jewelry with ZAHARIO logo in the form of a rectangular pendant with a length of 8 mm and a width of 4 mm.
Every order is shipped in an elegant bag.
For the pendant we propose to choose the chain - Chains.
Do not you like silver? The pendant is also available in the bronze version - Pendant Flying Pig Bronze.
If you want to make a return, complaint or cancel the order - The regulations.
About Zahario jewelry
Author's Zahario jewelry is characterized by precision and artistry of workmanship. There is no kitsch or exaltation in it, instead it is characterized by a huge dose of humour and fantasy to the point of madness. It is full of symbols, eccentricities, creatures - as if from a dream or from a poem.
It is also a deep reflection on life, transience, and the experiences that shape man. Each work of Zahario should be treated as a metaphor.
Customers who bought this product also bought: