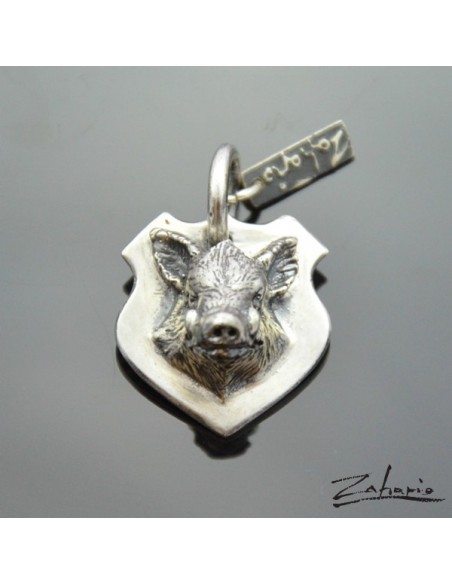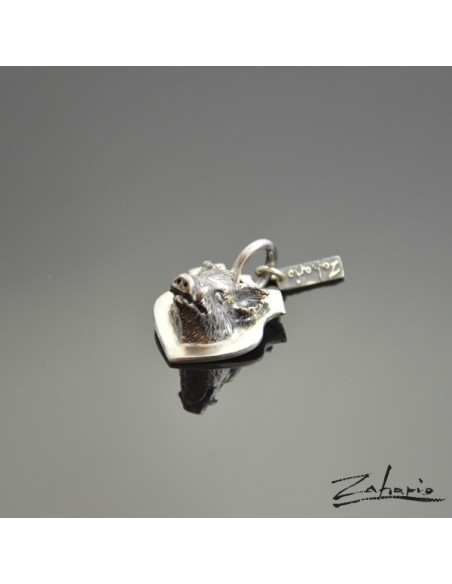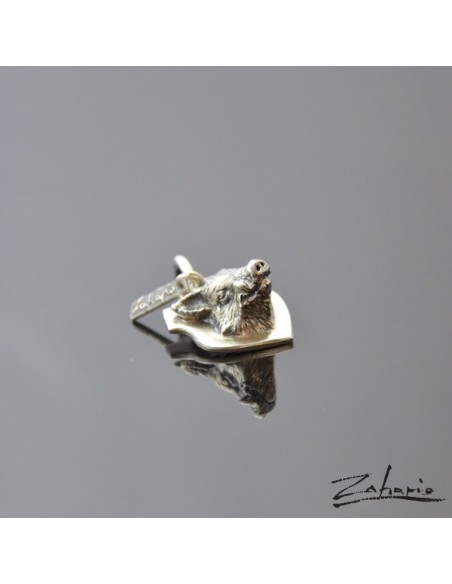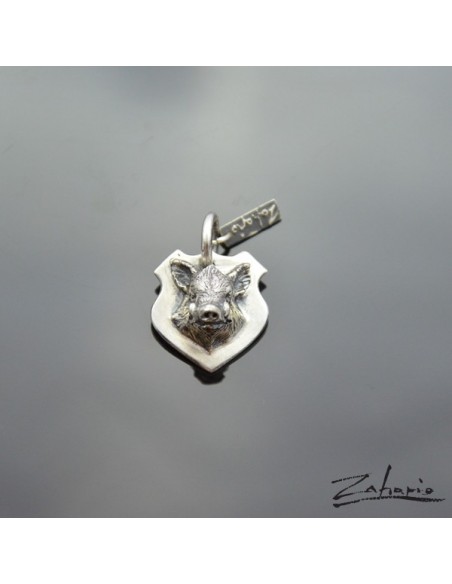 Pendant made of silver showing boar's head attached to decorative shield. Author's Zahario design made by hand in Olsztyn artist's studio. Details of the pendant carved under a magnifying glass. Pendant with the boar's head symbolizes triumph after a hard fight, respect for the enemy and unconditional victory.
Pendant in the shape of a boar head made in Zahario studio. Great design and excellent jewelry work. The symbol of triumph and courage.
Original piece of hunting jewelry and an idea for an unusual gift for a hunter and gamekeeper, a commemoration of a successful hunt or hunting initiation.

Boar head pendant symbolizes triumph after a hard fight, respect for the enemy and unconditional victory. Since ancient times, wild boar has been associated primarily with two qualities - strength and courage. He played a special role in the Celtic tradition - the boar was a royal creature, sacred and endowed with supernatural protective qualities. It symbolized war, hunting, care, hospitality and fertility.

Pendant made of silver depicting a boar's head attached to a decorative shield. The pendant is accompanied by a link with a tiny badge with Zahario logo.

For whom. This kind of jewelry suits a brave, valiant person with a sense of humour. Wild boar trophy pendant is a gift idea rich in content. On the one hand, the original design and precision-made decoration, on the other hand, the official announcement that THIS boar has already been hunted.

//Take a look at the earrings and brooch adorned with a boar's head//.


How it is made
Jewelry from Zahario is handmade in his workshop in Olsztyn. It is worth paying attention to the precisely elaborated details which are made under a magnifying glass. There is a possibility of adjusting the jewelry on customer's request. To the pendant is attached a link with a tiny badge with Zahario logo.

About Zahario jewelry
Author's Zahario jewelry is characterized by precision and artistry of making. There is no kitsch or exaltation in it, instead it is characterized by a huge dose of fantasy up to the point of madness. It is full of symbols, oddities, creatures - as if from a dream or a poem.
It is also a deep reflection on life, transience, and the experiences that shape man. Each of Zahario's works should be treated as a metaphor.
There is a lot of sadness in Zahario's work, but it's not typical dark jewelry.
Although it's hard to avoid associations with death, there's a grain of immortality and faith in the everlasting beauty.
Dimensions:
Width of pendant: 18 mm.
Height of the pendant: 20 mm.
Convex pendant: 12 mm.
Wheel diameter (for hanging on a chain): 8 mm.
Weight: 12.80 g.
Material: Silver 925.
The stated dimensions of the pendant may change slightly due to the individual execution of each piece.
There is a possibility to match the jewelery on request 
Jewelry with ZAHARIO logo in the form of a rectangular pendant with a length of 8 mm and a width of 4 mm.
Every order is shipped in an elegant  bag.
For the pendant I propose to choose the chain - Chains.
Do not you like silver? The pendant is also available in a bronze version - Pendant Boar Bronze.
If you want to make a return, complaint or cancel the order - The regulations.
Customers who bought this product also bought: