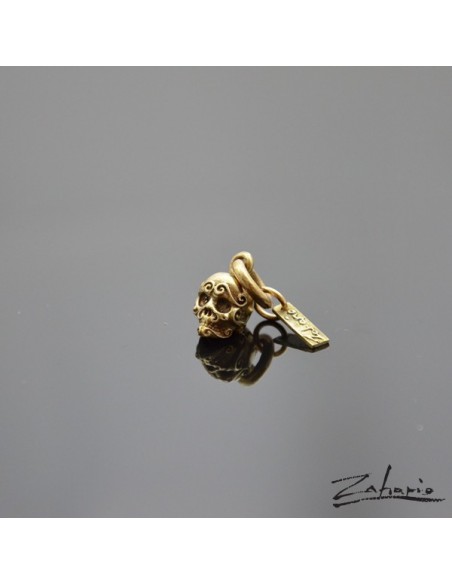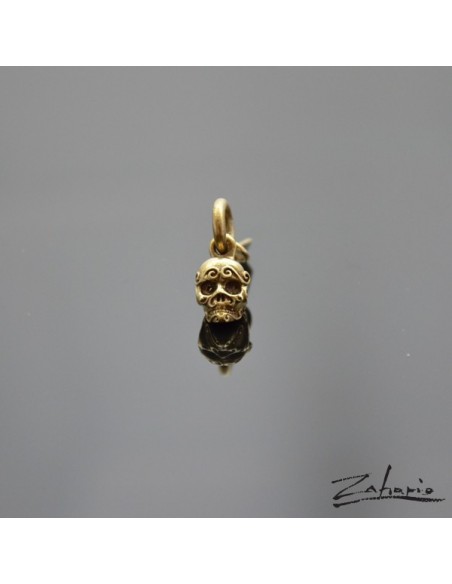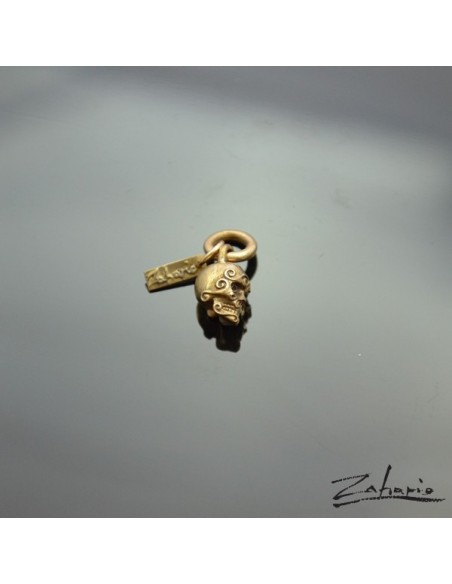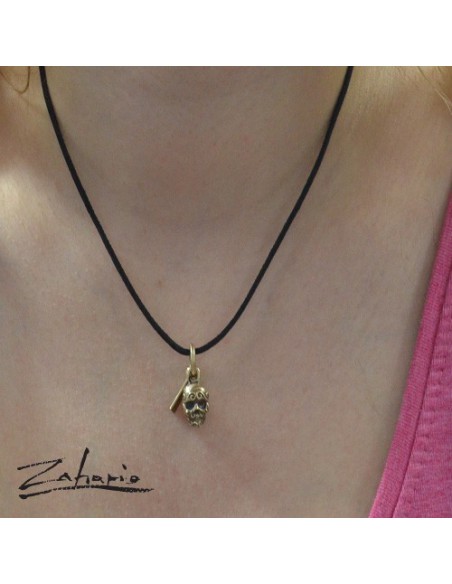 Pendant Ornamented Skull Bronze
Decorated Skull Pendant - artistic jewelry - zahario.pl
Bronze skull decorated with intricate grooves made under a magnifying glass. Handmade, unique jewelry with a message.

Delicate and beautiful pendant in the shape of a skull decorated with intricate swirls. The skull symbolizes humanity, death, reminder of death, mortality. In Christianity skull is an attribute of saints. It appears as futility, the insignificance of temporal things and symbolizes the shortness of life, transience and the inexorable passage of time. This symbol gives power and strength to overcome fears and motivation to live the moment as if each were the last.

Small bronze pendant in the shape of a human skull decorated with delicate ornaments. It is perfectly refined, unique and beautiful.
But can death be beautiful? So humanly, ornately.
This thought is not new at all. Decorating skulls - the symbol of death - is present in many cultures. In Mexico, the colorful catrina (Mexican skull) is an integral part of the celebration of the joyful festival of the dead. Over time, it also gave a face to Santa Muerte, a goddess who resembles the Christian Virgin Mary, but with a painted skull in place of her face. The skull even acted as a decorative element in the Baroque era. For the presence in art of symbols of transience even coined a special term - Vanitas, Latin: Vanity. Their message is that life is only a passing moment.
The skull from Zahario is decorated with almost baroque swirls, making it beautiful and rich. Its earthy beauty is at odds with the idea of the inevitability of passing, of which the skull is a symbol.
Or maybe it doesn't. Maybe every moment is worth beautifying, precisely because life is so short? Art, beauty, works of art in which the heart has been invested are more durable than human life. The belief that beauty does not pass away gives hope and sense to human work.
I imagine that a pendant in the shape of an ornamented skull is a perfect gift for a creator. It will strengthen his faith in the sense of creation and immortality of art. Small size of the pendant makes it a jewelry suitable for a woman and a man.
Dimensions:
Pendant width: 8 mm.
Height of the pendant: 11 mm.
Circle diameter (for hanging on a chain): 10 mm.
Weight: 4.60 g.
Material: Bronze.
The stated dimensions of the pendant may change slightly due to the individual execution of each piece.
There is a possibility to match the jewelery on request 
Jewelry with ZAHARIO logo in the form of a rectangular pendant with a length of 8 mm and a width of 4 mm.
Every order is shipped in an elegant bag.
For the pendant we propose to choose the chain - Chains.
Complete set! To pendant choose earrings – Earrings Ornamented Skull Bronze.
You do not like bronze? The pendant is also available in a silver version - Pendant Ornamented Skull Silver.
If you want to make a return, complaint or cancel the order - The regulations.



Method of making
Jewelry from Zahario is handmade in his workshop in Olsztyn. It is worth paying attention to the precisely elaborated details, which are made under a magnifying glass. There is a possibility of adjusting the jewelry on customer's request.

About Zahario's jewelry
Author's Zahario jewelry is characterized by precision and artistry of making. There is no kitsch or exaltation in it, instead it is characterized by a huge dose of fantasy, up to the point of madness. It is full of symbols, oddities, creatures - as if from a dream or a poem. The jewelry from Zahario's studio is also a deep reflection on life, transience and the experiences that shape man. That's why each work of Zahario should be treated as a metaphor. There is a lot of sadness in Zahario's work, but it's not typical dark jewelry. Although it's hard to avoid associations with death and fate, there's a grain of immortality and faith in impermanent beauty.
Customers who bought this product also bought: