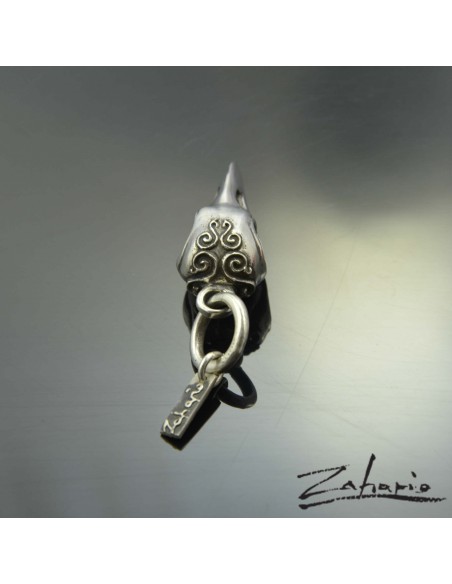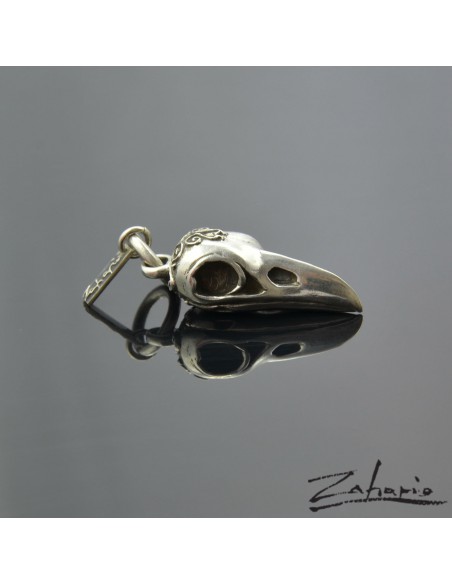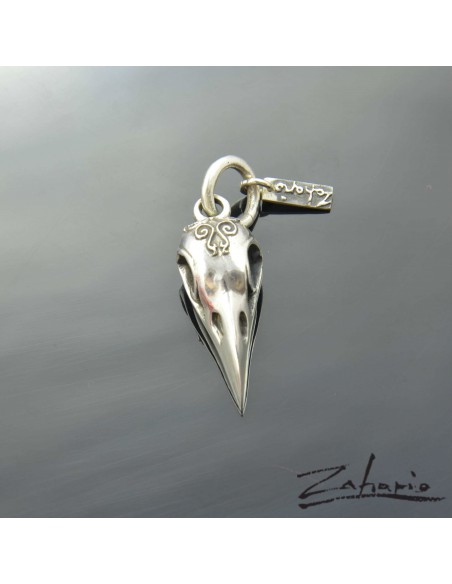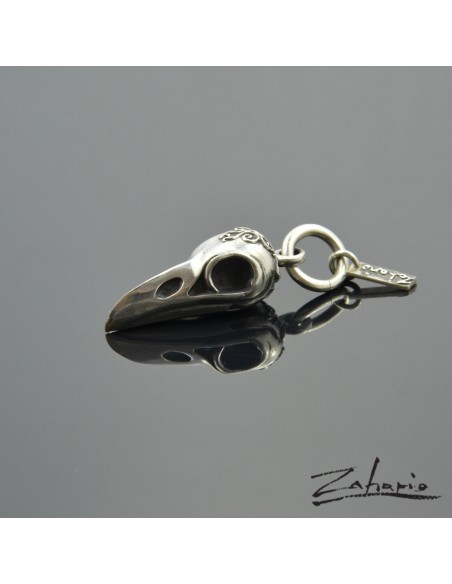 Pendant Raven's Skull Silver
Raven skull pendant - artistic jewelry - zahario.com. Handmade in silver pendant depicting a raven skull - a symbol of wisdom, death and attachment. Designer jewelry from Zahario studio in Olsztyn.

Precisely made of silver raven skull with decorative ornament. The details of the pendant were refined under a magnifying glass. The raven is traditionally seen as the harbinger of bad news, death, and at the same time a symbol of wisdom and a link between the world of gods, humans and the dead.

With a long beak, empty eye sockets, and an ornament on the top of its skull, the silver raven pendant has something sinister about it. It is reminiscent of the mask of Dr. Plague who dealt with the victims of epidemics, or Venetian carnival masks. Death, mystery or fun - what message is hidden in the pendant in the shape of a raven skull? The raven has extremely rich and complex symbolism. In ancient times it was a symbol of wisdom and the sun. In Viking mythology - knowledge. Two ravens - Thought and Memory (Hugin and Munin) - brought news from the world to Odin every day. In the Slavs he connected the land of the dead with the living. In autumn, the raven replaced the stork and carried the souls of Wyraj to earth, so that they could enter women's wombs and be born again. Most often, however, the raven is associated with death, war and unfavorable omens. Always present where blood is shed, pecking at corpses, carrying the plague, it has gained a bad reputation as the devil's messenger and the witches' pet. On the other hand, the raven is also seen as a symbol of marital fidelity and constancy of affection - all the way to the grave. But why a pendant in the shape of a raven skull? Maybe it is to give the new owner raven wisdom and spiritual wealth? Or maybe it is the remains of an eaten raven? According to folk beliefs, eating crow meat gave the gift of understanding animal speech. Raven skull pendant was created in Zahario artistic jewelry workshop. Each detail was refined with extreme precision under a magnifying glass. Small ornament adds a raven skull jewelry ornamentation. The pendant is accompanied by a link with a tiny badge with Zahario logo.
D
imensions:
Length: 3.30 cm.
Width: 1.00 cm.
Weight: 11,6 g.
Material: Silver 925.
Given the dimensions of the pendant may change slightly due to the individual execution of each piece.
There is a possibility of matching jewelery on request 
Jewelry with ZAHARIO logo in the form of a rectangular pendant with a length of 8 mm and a width of 4 mm.
Every order is shipped in an elegant  bag.
For the pendant I propose to choose the chain - 
Chains.
Do not you like silver? The pendant is also available in bronze - 

Pendant Raven's Bronze.
If you want to make a return, complaint or cancel the order - 
Terms & Conditions.
Method of making
Jewelry from Zahario is handmade in his workshop in Olsztyn. It is worth paying attention to the precisely elaborated details, which are made under a magnifying glass. There is a possibility of adjusting the jewelry on customer's request.

About Zahario's jewelry
Author's Zahario jewelry is characterized by precision and artistry of making. There is no kitsch or exaltation in it, instead it is characterized by a huge dose of fantasy, up to the point of madness. It is full of symbols, oddities, creatures - as if from a dream or a poem. The jewelry from Zahario's studio is also a deep reflection on life, transience and the experiences that shape man. That's why each work of Zahario should be treated as a metaphor. There is a lot of sadness in Zahario's work, but it's not typical dark jewelry. Although it's hard to avoid associations with death and fate, there's a grain of immortality and faith in impermanent beauty.
Customers who bought this product also bought: