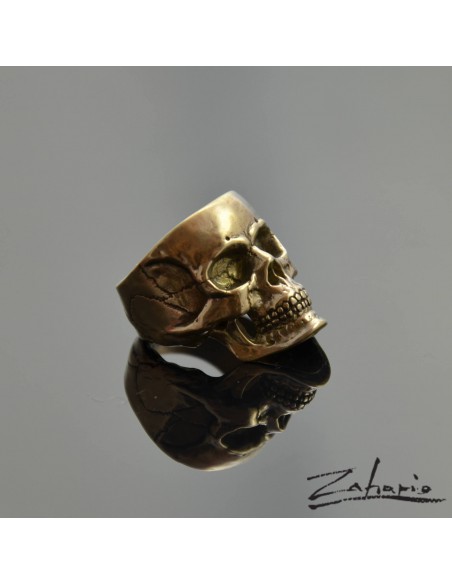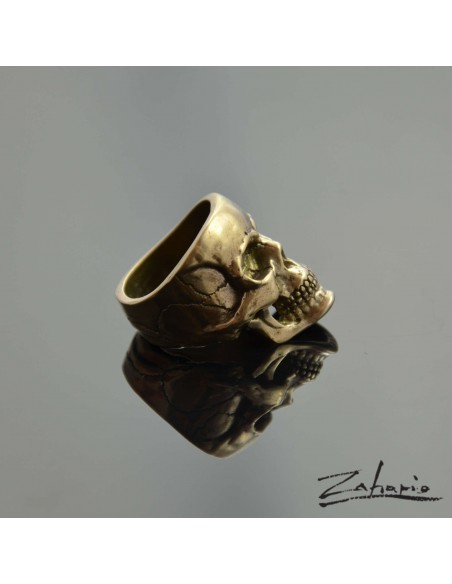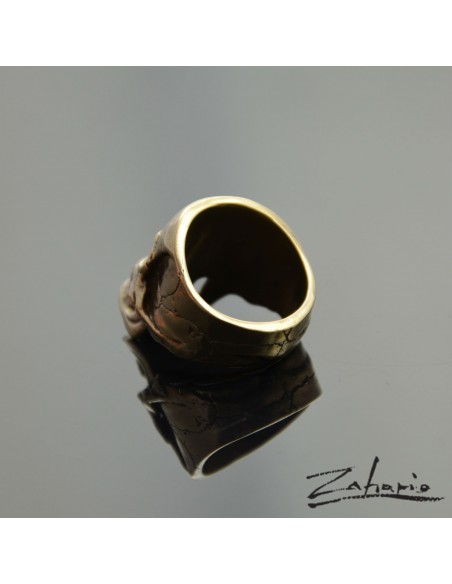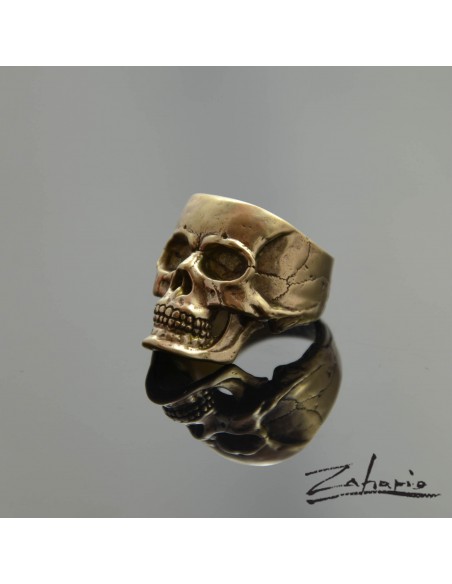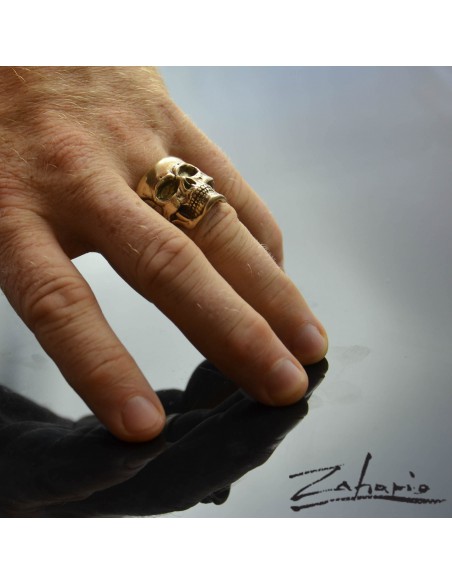 Massive ring fit for a fist. Large, signet made of bronze, ring in the shape of a skull, author's jewelry from Zahario studio.

A signet ring with a skull is a demonstration of strength and courage. It helps during a fight like a knuckle-duster. It shows that its owner does not shy away from confrontation and has no regard for danger or even the threat of death. The owner of a ring with a skull can be described in this way, but it will be a very superficial assessment. The meaning of skull in culture is much more complicated, as well as reasons for choosing this kind of jewelry. The skull symbolizes humanity, death, a reminder of death, mortality. In Christianity, the skull is an attribute of the saints. It appears as vanity, insignificance of temporal things and symbolizes the shortness of life, transience and inexorable passage of time. This symbol gives power and strength to overcome fears and motivation to live the moment as if each were the last.

A skull-shaped signet ring is jewelry often associated with the motorcycle subculture . They are worn by members as a sign of loyalty and belonging to a particular group of bikers. The beginning of motorcycle subculture came from World War II veterans, who could not find themselves in a "normal" world, healing their traumas rushing across the States on demobilized Harleys. The symbol of the skull perfectly matched their way of seeing the world of these lost people. The Skull signet ring made of bronze is an original design from Zahario studio. Massive ring and skull are one - the shape of the skull flows smoothly into the wide ring. On the signet ring all the anatomical details of the human skull have been rendered. The finest elements were chiseled under a magnifying glass.
Dimensions:
Height of skull: 25mm
Width of skull: 22mm
Size: 21,22,23.
Weight: 22,4 g.
Material: Bronze
The stated dimensions of the ring may be slightly altered due to the individual execution of each piece.

Every order is shipped in an elegant bag.
Does not bronze match you? The ring is also available in silver - Signet Skull Silver
If you want to make a return, complaint or cancel the order - The regulations.
Jewelry from Zahario is handmade in his workshop in Olsztyn. It is worth paying attention to the precisely elaborated details, which are made under a magnifying glass. There is a possibility of adjusting the jewelry on customer's request.


Author's Zahario jewelry is characterized by precision and artistry of making. There is no kitsch or exaltation in it, instead it is characterized by a huge dose of fantasy, up to the point of madness. It is full of symbols, oddities, creatures - as if from a dream or a poem. The jewelry from Zahario's studio is also a deep reflection on life, transience and the experiences that shape man. That's why each work of Zahario should be treated as a metaphor. There is a lot of sadness in Zahario's work, but it's not typical dark jewelry. Although it's hard to avoid associations with death and fate, there's a grain of immortality and faith in impermanent beauty.
Customers who bought this product also bought:
Grade

Comments (0)
No customer reviews for the moment.