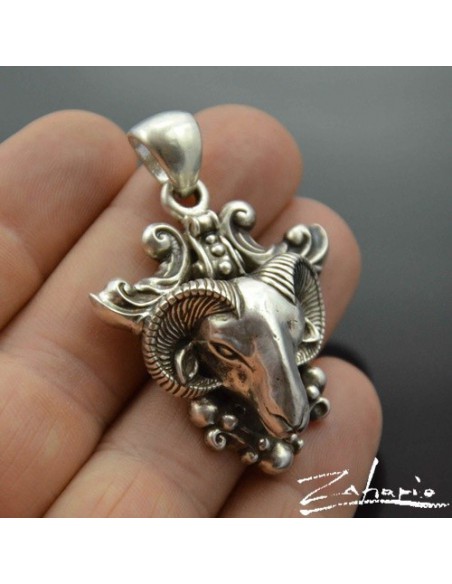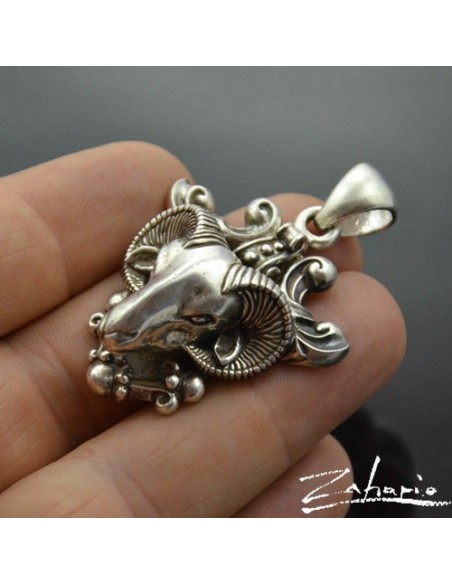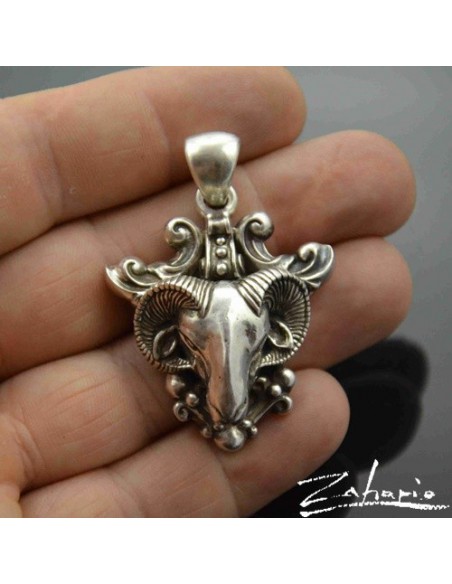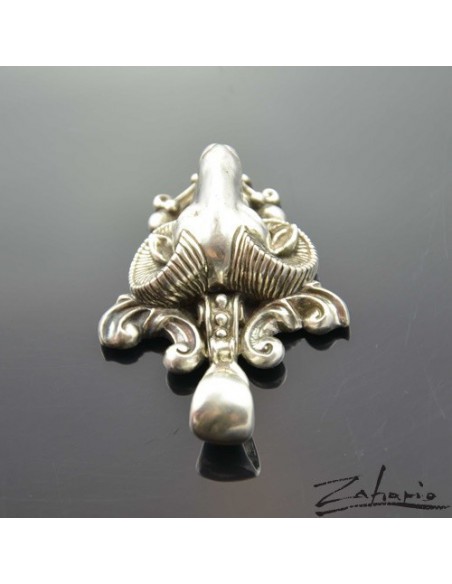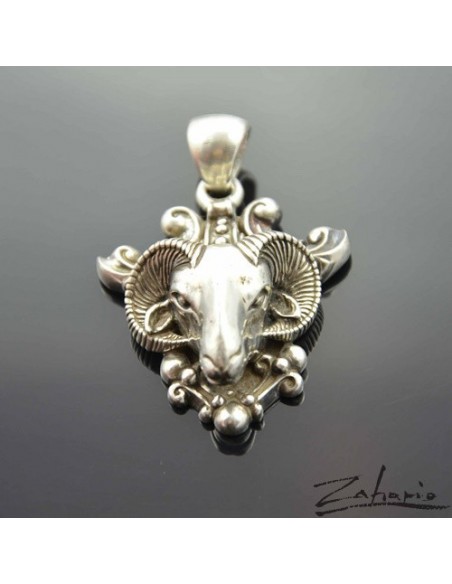 Is it a ram or maybe a lamb ? No !!! this is a real beast enchanted in silver. Pendant with the zodiacal ram, a symbol of determination and strength of purpose.
Pendant with the head of a ram intricately carved in metal. Surrounding the head is a border of swirling plant stems with fruit, which emphasize the animal's extraordinary vitality. Excellent jewelry work and author's design by Zahario. The finest details can only be seen under a magnifying glass.  
Aries is the first sign of the zodiac and the symbol of the coming spring. Its reign in the sky begins on the spring equinox (March 21). It symbolizes rebirth and the victory of the sun over the forces of darkness. The ram is the personification of vitality and fertility.
The characteristics of the ram are strength, determination and perseverance in pursuit of a goal. Aries sticks to once chosen direction and will not let himself be distracted by trivialities. He is loyal to his friends, shares his energy and enthusiasm with others, and shows how to walk through life without being afraid of change and overcoming obstacles.
The Lamb is also a symbol of resurrection - the sun after winter sleep, and in the Christian religion - Jesus Christ.
Pendant for the zodiacal ram, so that he can emphasize the connection with his star patron. The pendant with the head of an Aries promotes perseverance in pursuit of goals and boosts vital energy
Aries Pendant - Jewelry with the zodiac sign - zahario.com
Dimensions:
width pendant: 33 mm.
Height pendant: 33 mm.
Convex pendant: 12 mm.
Circle diameter (for hanging on a chain):  8 mm.
Weight: 37,2 g.
Material: Silver 925.
Jewelry signed with engraved ZAHARIO logo.
Every order is shipped in an elegant  bag.
The stated dimensions of the pendant may change slightly due to the individual execution of each piece.
There is a possibility to match the jewelery on request 
If you want to make a return, complaint or cancel the order - The regulations.
Customers who bought this product also bought: