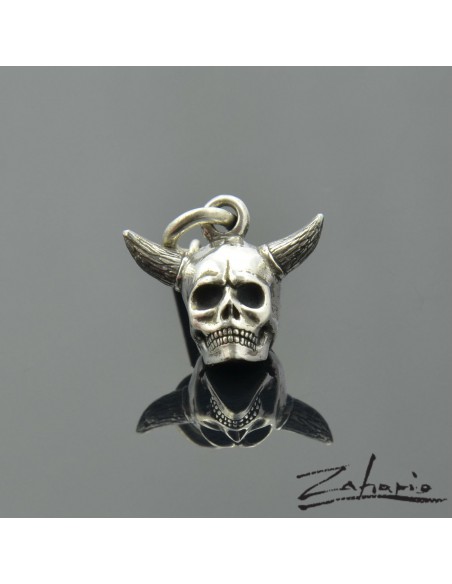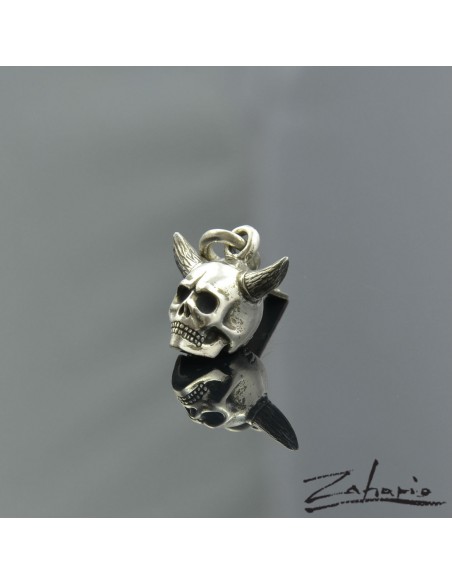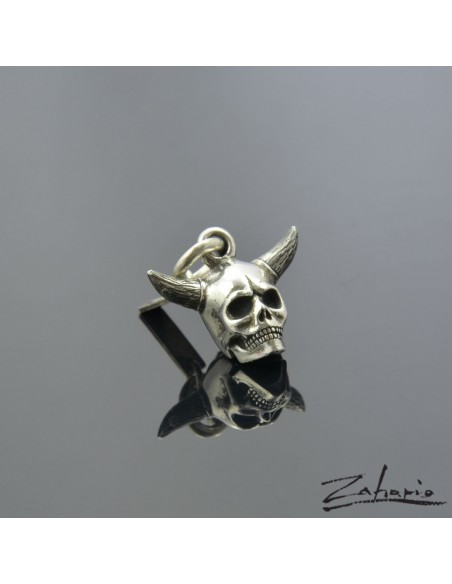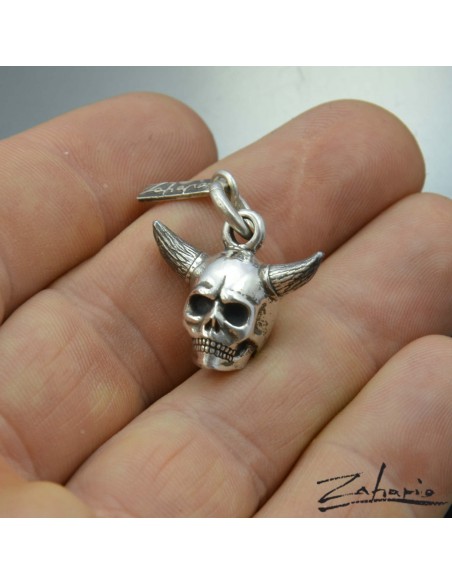 Pendant Skull with Horns Silver
Pendant presenting skull with big horns like from a Viking helmet. Handmade with the greatest attention to detail in Zahario workshop. Details chiseled under a magnifying glass, author's project. Due to the handmade product individual pieces may differ from each other. Available in silver or bronze.
Pendant in the shape of a skull with horns made of silver 925 handmade in Zahario studio. Designer jewelry in the dark spirit, unique designs.
Pendant presenting skull with horns. And what horns they are! These horns cannot be hidden under a hat or even a cap. These are not ram or deer horns. These are horns like from a Viking helmet - a manifestation of masculinity and bravery. You can see right away that this is a warrior made for fighting. The raised eyebrow, furrowed brow and slightly arrogant expression emphasize how disrespectful his attitude to life, death and pain is.

Perhaps it is the skull of a berserker? A warrior from the Viking times, who in a battle rage turned into half man, half beast. All the atrocities he committed in battle were forgiven because the animal part of his nature was responsible.

The skull symbolizes humanity, death, a reminder of death, mortality. In Christianity, the skull is an attribute of the saints. It appears as futility, the insignificance of temporal things and symbolizes the shortness of life, transience and the inexorable passage of time. This symbol gives power and strength to overcome fears and motivation to live each moment as if it were the last.

For whom?
Horned Skull Pendant suits a strong man, focused on the goal and determined. Relentless in a fight and always reaching the goal. But he also has another face - human and noble, which will not be known to the enemies standing in his way.

The way it is made
The jewelry from Zahario is hand-made in his workshop in Olsztyn. It is worth paying attention to the precisely elaborated details, which are made under a magnifying glass. There is a possibility of adjusting the jewelry on customer's request. To the pendant is attached a link with a tiny badge with Zahario logo.

About Zahario jewelry
Author's Zahario jewelry is characterized by precision and artistry of making. There is no kitsch or exaltation in it, instead it is characterized by a huge dose of fantasy up to the point of madness. It is full of symbols, oddities, creatures - as if from a dream or a poem.

It is also a deep reflection on life, passing, and experiences that shape man. Each of Zahario's works should be treated as a metaphor.

There is a lot of sadness in Zahario's work, but it's not typical dark jewelry.
Although it's hard to avoid associations with death, there's a grain of immortality in it and a belief in impermanent beauty.
Dimensions:
Pendant Width with Horns: 20mm.
Height of the pendant: 14mm.
Weight pendant: 10,70 g.
Material: Silver 925.
The stated dimensions of the pendant may change slightly due to the individual execution of each piece.
There is a possibility to match the jewelery on request 
Do not you like silver? The pendant is also available in bronze - Pendant Raven's Bronze.
Every order is shipped in an elegant  bag.
If you want to make a return, complaint or cancel the order - The regulations.
Customers who bought this product also bought:
Grade

Comments (0)
No customer reviews for the moment.