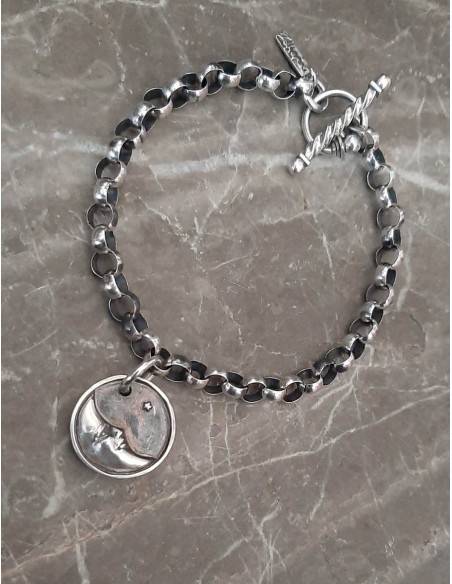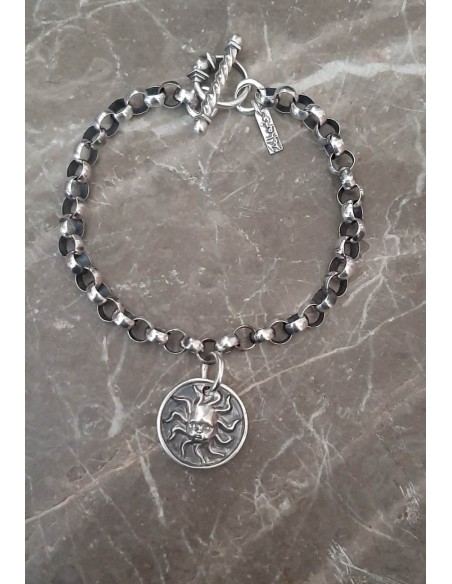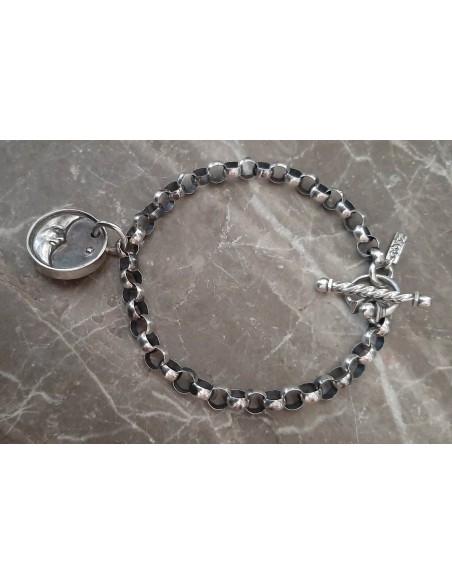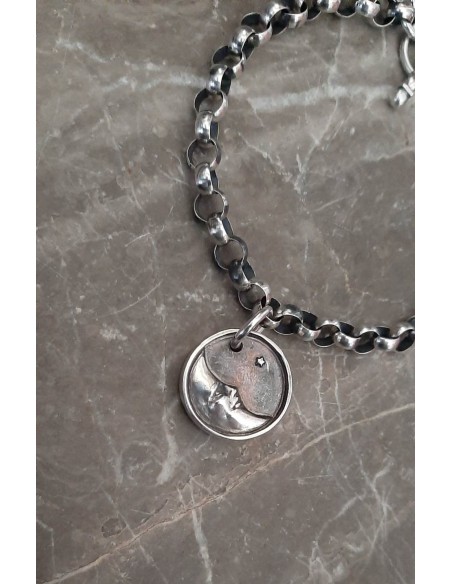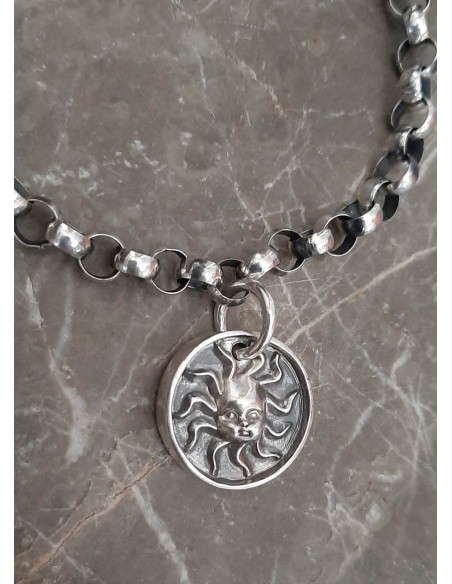 Bracelet Watchman Day and Night Silver
The Guardian of Doby bracelet made of silver is a proposal for those who do not care enough about themselves and their health, for those who remember themselves in action and forget about other needs. The double-sided Guardian of Doby pendant was made with reverence and attention to the smallest details. It is an original piece of jewelry that serves the function of more than just an ornament. Such a Guardian would be useful to almost anyone. Guard Doby attached like a dog to a chain helps to maintain balance and guards the owner.
Dimensions:
Length of bracelet: 20 cm.
Diameter of the pendant: 19 mm.
Convexity of the pendant: 4 mm.
Diameter of the circle (to hang on the chain): 10 mm.
Diameter of the rolo chain link: 6,5 mm. 
Material: 925 Silver.
On the one hand, the moon symbolizes growth, development, new beginnings.
It is austere, delightfully simple, full of lunar magic with a clear message - "Grow". 
The shape of the rising moon resembles the letter D, while the declining moon resembles the letter C. In Latin, this principle was called "Luna mendax," meaning liar moon. It is related to the words decrescit (decreases, diminishes) and crescit (increases, increases").
On the other side, a chubby sun like from an old engraving. The sun symbolizes life, energy and light. In many cultures, the sun is considered divine or supernatural. It is also often associated with power, as its rays give life and growth.
The sun is associated with creativity and inspiration. Its light and warmth can stimulate human minds and souls to creative activity.
Artistic jewelry from Zahario is handmade in his studio in Olsztyn. It is worth noting the precise details, which are made under a magnifying glass. It is possible to customize the jewelry on request
About Zahario jewelry
Author's Zahario jewelry is characterized by precision and artistry of workmanship. There is no kitsch or exaltation in it, instead it is characterized by a huge dose of humor and fantasy to the point of madness. It is full of symbols, oddities, creatures - as if from a dream or a poem.
It is also a deep reflection on life, passing, and the experiences that shape a person. Each of Zahario's works should be treated as a metaphor
Translated with www.DeepL.com/Translator (free version)
Grade

Comments (0)
No customer reviews for the moment.